Why Collect Bullseye Cancels?
by Gary Bishop
I can answer with two words. Why not? They are simply wonderful as these can transform an ordinary stamp into a miniature masterpiece. Besides, they are a challenge . The point was reached in my mint US collection as many collectors soon find out, that the only ones that I still needed were very expensive. So I decided to do something a little more challenging - collect used US stamps with bullseye cancels. I quickly found out that not only was it more challenging, but it also was interesting, educational, and fun!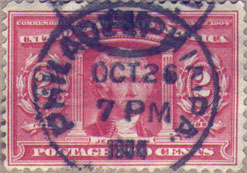 I really became interested in bullseye or socked on the nose (SOTN) when I noticed a mail order auction lot described as a "cigar box of 2350 stamps with bullseye cancellations". It intrigued me, so I put in a bid of $60.00 for it, or a mere 2.5 cents each. Much to my surprise, I won the lot. From that point on I was hooked.
I discovered that there are many ways to collect bullseyes. That is what makes stamp collecting such a great hobby. There are seemingly an infinite amount of ways to collect stamps. Just when I think I've heard of them all, another new one pops up! I know that many bullseye collectors search for specific dates and create calendars of them - by year, decade, or century, etc. Some people collect specific states or countries; others enjoy first day of issue (FDOI) SOTNs. I fall into the specific category of collecting US and Great Britain - especially bold, perfectly centered cancels. Many times these can be found in dealers' 5 cent boxes at stamp shows and it's really exciting to find one. I think that is what is meant by "the thrill of the hunt". However, sometimes SOTNs can be quite costly, especially if they are on old classics.
Whatever the reason that you collect bullseyes or how you do so, I think that it is great that the BCCC has been reactivated. Let's all get involved in the club and enjoy!
Gary